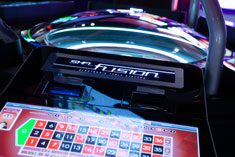 FUSION™ AUTO electronic station
FUSION™ AUTO-ROULETTE offers automated roulette gaming on a sleek & compactly designed six wide-screen ergonomic player positions, each with a free view of the wheel and maximum operational security.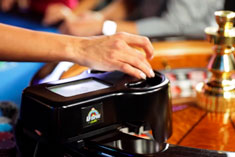 U-SPIN ROULETTE LAUNCHER
Give players control to launch roulette ball. The dealer loads roulette ball into device and a player presses a button on a wireless remote to launch the ball into the wheel.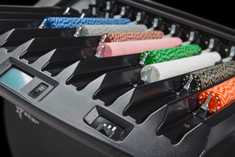 CHIPSTAR™ CSL Chipper machine
CHIPSTAR™ uses state-of-the-art technology to sort colour and cash chips and improves roulette performance without impact on chip durability, requires minimum service.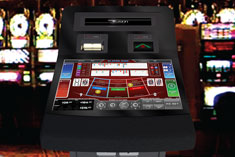 FUSION™ electronic terminal
FUSION™ features a space saving footprint, ergonomically designed cabinet and a wide 22" tilted touch-screen, offering players a highly rewarding experience to play roulette, blackjack & baccarat.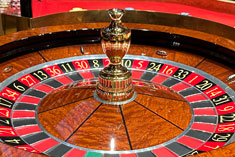 MERCURY360 Roulette Wheel
MERCURY360 brings unrivalled security and operational features to the manual roulette wheel. Its 4 invisible in-rim sensors offer fast and reliable winning number recognition.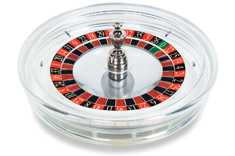 CRYSTAL Roulette Wheel
CRYSTAL is a most beautiful interpretation of traditional roulette wheel, created with acrylic transparent bowl and rotor, inspiring aesthetic wonder and confidence with players all over the world.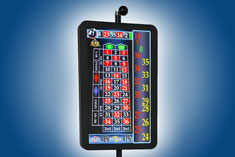 DISPLAY Winning Results
Roulette DISPLAY complements gaming table by displaying results, statistics and promotional material in pin-sharp high definition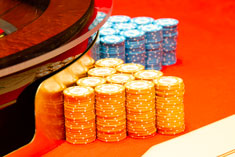 WHEELCHECKS Colour Chip Sets
Highly durable WHEELCHECKS have a perfectly balanced weight and easy chip handling, ensuring gaming process is most satisfying for the players.
Copyright 2020, Gaming Supplies LLC