Roulette dolly is a shaped figure used to mark winning number on roulette tables. Casino dealer places win marker on roulette layout to display to players the winning number where the ball dropped inside roulette wheel.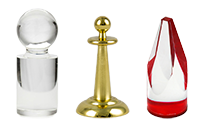 Roulette dolly (win marker) is an essential accessory for every casino roulette table. The win markers have different shapes and sizes, made from different materials. Typically, the choice is between solid brass or transparent acrylic plastic. The brass dollies have a more premium look, however due to their relatively high weight, these dollies pose higher danger to casino staff.

If you are searching for roulette dolly, we have in stock a choice of four designs.